Casual
Twin braids.
Pink Highlights, perfect for summer and days by the beach.
A dainty cascade of hair at the front and a chic pony at the back.
I really like the way Blair's (Leighton Meester) hair looks in this episode (Season 2 It's a Wonderful Lie).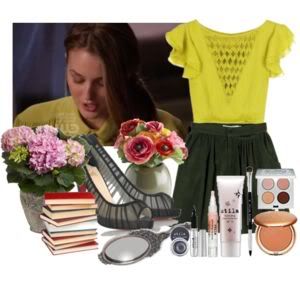 I think this new fascination with hairstyling is overdue after being, a girl who hated combing her hair (still get lazy about this), wore the same headband for seven years (kindergarten till 6th grade) and only knew how to put her hair up into half or whole ponytails (I'm now into braids).
Hope you guys like the blog's holiday decorations. I'm in the midst of typing my thesis but am already thinking about dressing up for Christmas parties. I'm feeling the buzz of the season and LOVE IT!!!
Images via Knight cat & Pepper and Chips and
Polyvore