I love perfume and dream of amassing different scents that I can pick and choose from depending on my mood. I like fruity, floral and citrusy scents.
While in Grasse, France last month, Rosie and I took a tour of the Fragonard perfume factory. We learned about the fruits, flowers, herbs and plants perfume scents are sourced from and how the scents are harvested to create perfumes and other scented products such as soaps and lotions. Our guide also let us smell different Fragonard scents and they even gave us small sample bottles to take home. Sweet!
After the tour we got a chance to explore the factory store. I was in olfactory heaven and in my opinion we didn't have enough time in there. Nonetheless, I ended up getting two eau de toilette bottles as presents for my sisters.
A bottle of Etoile, French for Star. This was the first perfume I smelled and the one I like best.
This scent is described as a "woody, floral scent with citrus accents."
For my younger sister I asked the saleslady to recommend something appropriate for a young teenager and she led me to Mademoiselle Amour, "a

mischievous eau de toilette brimming with tenderness, offering a tangerine, strawberry and apple top note, a rose, jasmine and sweet pea middle note and a raspberry back note." This sweet little scent came in a cute cosmetics pouch with a heart motif and was accompanied by a small pocket mirror.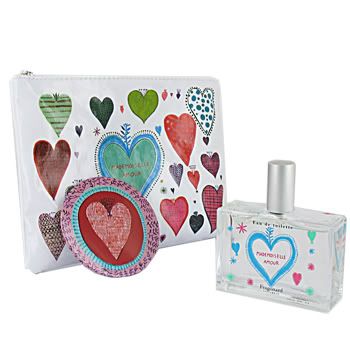 For myself I ended up with a lovely free sample bottle of Marche aux Fleurs, described on the website
as "a

magnificent floral, fruity mixture of melon and black currant with a hint of sweet pea, lily of the valley, vineyard peach along with a lasting scent of jasmine, orange blossom and musk that lingers."
It's a lovely scent, bright but gentle and I find myself trying not to use up my little bottle so quickly so as to keep it lasting longer. Scents have such powerful memories attached to them and when I smell this one I'm transported back to that lovely day in Southern France.
What perfumes and scents do you guys love?
Photos from Fragonard perfume and Swiss Spring.