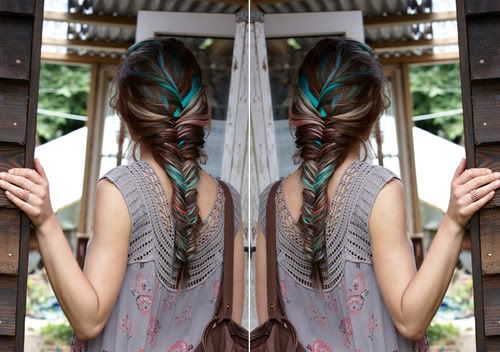 Via Weheartit
My interest in
braided hairstyles
hasn't died. Here's a cute illustrated instructional guide for creating a fishtail or herringbone braid, similar to the style above.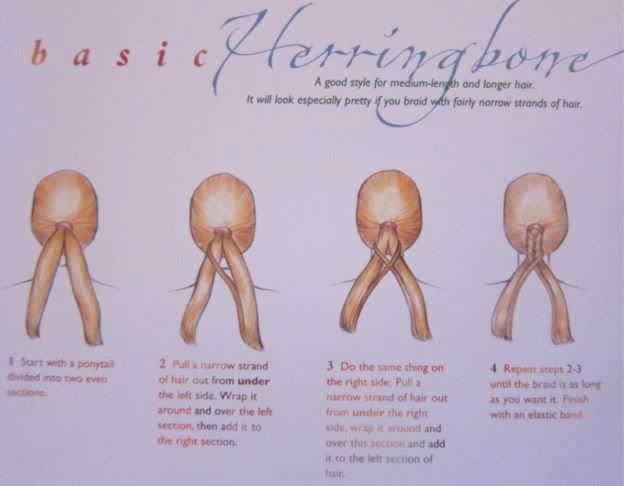 Two summers ago I took sewing lessons from a very nice lady in my area, who ran a clothing business making dance costumes and beachwear from her home. I thought I'd share some of the pieces I've sewn.
Left to Right:
A grey jersey sweater dress I made when a similar store bought one I owned got too small. (I bought that dress after being inspired by Madison Palffy of the now defunct blog Urban Audrey/Tangle of Thorns. When I first started getting into fashion blogging in early 2008, Madison's blog and outfit posts were some of my favorites.) When drawing the pattern for this dress I focused on the hips and consequently the top area is loose. But I love it, it has this great batwing sweater look to it, when worn loose on top and tighter at the bottom. I wear this dress the most of the three. I wear it with black tights or without, to school and to parties and even to work when I was interning. It's very versatile and I get lots of compliments plus people are always shocked to find out I sewed it myself.
A red polka-dot sundress I last wore during the summer. I also wore it for a Minnie Mouse costume last year. Sewing the skirt was easy. The bodice was a bit more tricky since we added lining on the inside and had to be sure to sew it correctly to get the correct shaped for the bodice so that it was flattering. You can't see it from the picture but the front of the bodice is three panels each with their own inner lining.
A blue skirt which may have been inspired by the skating skirt of American Apparel and a black balloon skirt I own that has a thick top garter band.Sewing that band was the trickiest part of this job and took me awhile. I think I messed it up three or more times.